BB10 Episode 10th November 2016 Day 25 First Captain Of House Winner Updates
Everyone in the Bigg Boss 10 house gets in a shock, when they hear a buzzer at 3:30 in the night. Bigg Boss declare that from now on, no one will be a fame celebrity and no one will be a public. Everyone will be equal and there will be no 'Maalik' and 'Sevak' in the house. Bigg Boss burns the rulebook. Nitibha tells Bani that she is so happy after this decision of Bigg Boss.
Even Manveer, Navin and Manu dance and celebrate the decision made by Bigg Boss. Next morning everyone wakes up and even Swami Om dances in his secret room. Manveer and Mona talk about Lokesh and say that she will also become like Swami, segregated from the team members. Bigg Boss tells Swami Om that he will return to Bigg Boss house today but he will have to wait for the decision of the housemates.
Highlights Of The BB10 Episode 10th November 2016
Kaun pehenega pehle captain ka taaj in Bigg Boss season 10.
Dost dost na raha? The fight between Lokesh & Manu escalates.
Manveer, Manu & monalisa band together against Swami Om Ji opinions.
The war for the 1st

Big Boss 10 House

 captain is about to begin! bani Manu, Swami Om Ji.
Bigg Boss Contestants Gear UP For The Captain-ship Task
It's been enough a week with troublesome tasks being fallen upon the gharwale. Today we see, the most awaited challenge in this game begin. The Captaincy Task commences tonight.
Bigg Boss asked the housemates to give their names in the confession room for the task, the first three to do so will compete.

Bani, Manu and Swami Om take the lead on this. They have been given a task called 'Siyasaat', where by they are asked to build their parties by fetching votes. The one with the maximum ones, wins!
Frightful Bani gets a yellow color for her party, macho Manu gets a white and pompous Swami Om gets a red, ahh his favourite! We even have them giving speeches!'
Manveer, Manu, & Monalisa band together against Swami Om opinions! in BB10 House
Watch Video Now
#ManuPunjabi, #ManveerGurjar & @monalisaantara band together against #OmSwami's opinions! #BB10 #video https://t.co/slY6HOJBxV

— Bigg Boss (@BiggBoss) November 10, 2016
Bigg Boss 10 Full Episode 10th November 2016 Day 25 First Captain Of House
Nitibha declare the luxury budget. She says that they need to write their choice on the board given by Bigg Boss. Swami Om was also given as one of the preference in the luxury budget but everyone refuses to use the luxury budget to get him inside the bb10 house. Manu , Manveer, and Navin debate Swami Om, where they say that they will never let him enter the house again. Bigg Boss tells Swami to pack his bags and enter the house again. Bigg Boss welcomes Swami as a contestant and he tells everyone that for last three days he was out of the house and didn't see any of the episodes.
Swami Om Ji ahead tells that he requested Bigg Boss that he wants to departure for a few time the house because he had some work outside. Swami tells the common man that Bigg Boss is topping the charts and since he was missing everyone, he told Bigg Boss that now he wants to re-enter the house. He demand that he will win the show. Everyone in the house gets to know that Swami was staying in a secret room and ahead Bigg Boss gives him a task to disclose the secrets of Prisoners. Swami starts with Mona and alleges that she is getting married in a year so she must not hook up with Manu in the house. Then he says that Manu is playing a game with Mona and it is not a fair game. Gaurav gets offended by the allegations of Swami and says that he can't pass sexist comments.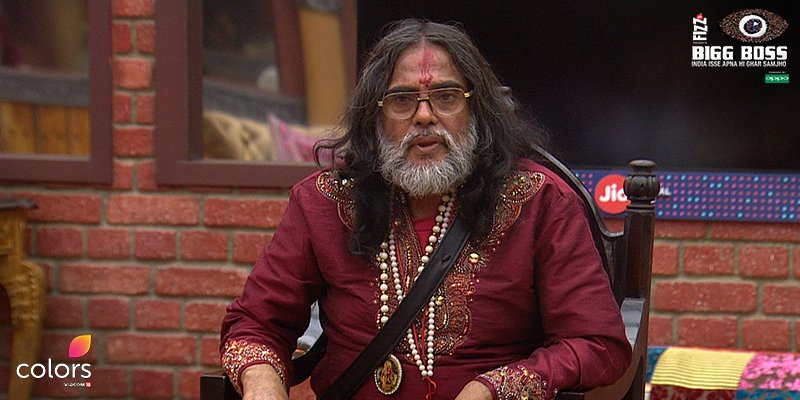 Manu says that they will boycott talking to Swami. Lokesh gets into a fight with Manveer and Manu. Manveer asks her that what is wrong with her and why is she not talking to them, to which Lokesh replies that Manu has asked her not to talk to him. Manveer calls her 'beta' but Lokesh says that he should not call her beta. Manu requests Lokesh to share the bed with Swami as there are not enough beds. Bani tells Lokesh not to do so.
The war for the 1st captain of  Bigg Boss 10 House is about to begin!
Bani Will Be The First Captain Of House in Today's EPisode .
challenge Between bani, Manu or Swami Om Ji. Watch video here!
The war for the 1st #BB10 captain is about to begin! @bani_j #ManuPunjabi #OmSwami. Watch more here! #video https://t.co/WWhzn1FUxL

— Bigg Boss (@BiggBoss) November 10, 2016